Want Your Limit of Redfish, New Orleans is the Place!
Louisiana Fishing Charters offers an exciting Redfish New Orleans Louisiana fishing trips, where our expert guides take you and your guests on a thrilling fishing adventure through the beautiful waterways of Coastal Louisiana.
Catch big and most beautiful Redfish, fast-action sea trout all while enjoying the stunning natural scenery of the Louisiana wetlands.
Book your tour today for an unforgettable experience!
Experience the best of Louisiana Redfish Fishing,
Charters and Guided Trips Daily!

Want Your Limit of Redfish, New Orleans is the Place!
Looking to catch Redfish, New Orleans is the place to be! Get ready, Get Set for some heart pounding, cooler filling action only the marshlands of Delacroix Louisiana have to offer! We'll set you up, take you out and let the drag scream as you have the fishing fight of a lifetime. Redfishing at its finest. These fish refuse to give up and will provide you the ultimate challenge all the way to the icebox.
The inland marshes and coastal waterway's of Louisiana are a must see stop in your New Orleans vacation. The finest fishing and good ole southern hospitality. Come experience the adventure with Louisiana Fishing Charters.
What is a Redfish?
Redfish (Red Drum), are also commonly referred to as channel bass, spot tail, red bass or reds. Feeding on a combination of crab, shrimp and minnows these fish know how to put up a fight. You'll know when you hook up with one these guys as the drag will start screaming, and the fight is on.
Known locally as the redfish, Red Drum (Sciaenops ocellatus), is a game fish that makes it's home from the far inland reaches of our brackish marshes all the way to the green waters of the Gulf of Mexico.
The redfish is a mainstay here at Louisiana Fishing Charters for their impressive fights and abundant numbers in our marshes. Years of experience has helped us develop the most effective techniques for catching them. We want to use this knowledge to take you on the redfish trip of a lifetime.
Inshore Fish that Packs a Punch
Redfish pack mighty fights with strength and purpose in a calculated and in such an aggressive manner. We love to put our clients on schools of redfish and watch their faces light up as they a battle toe to toe with these brutish bulls of the Louisiana marsh. If you're looking for a redfish guide Louisiana is the place to come and we can take you right to the action.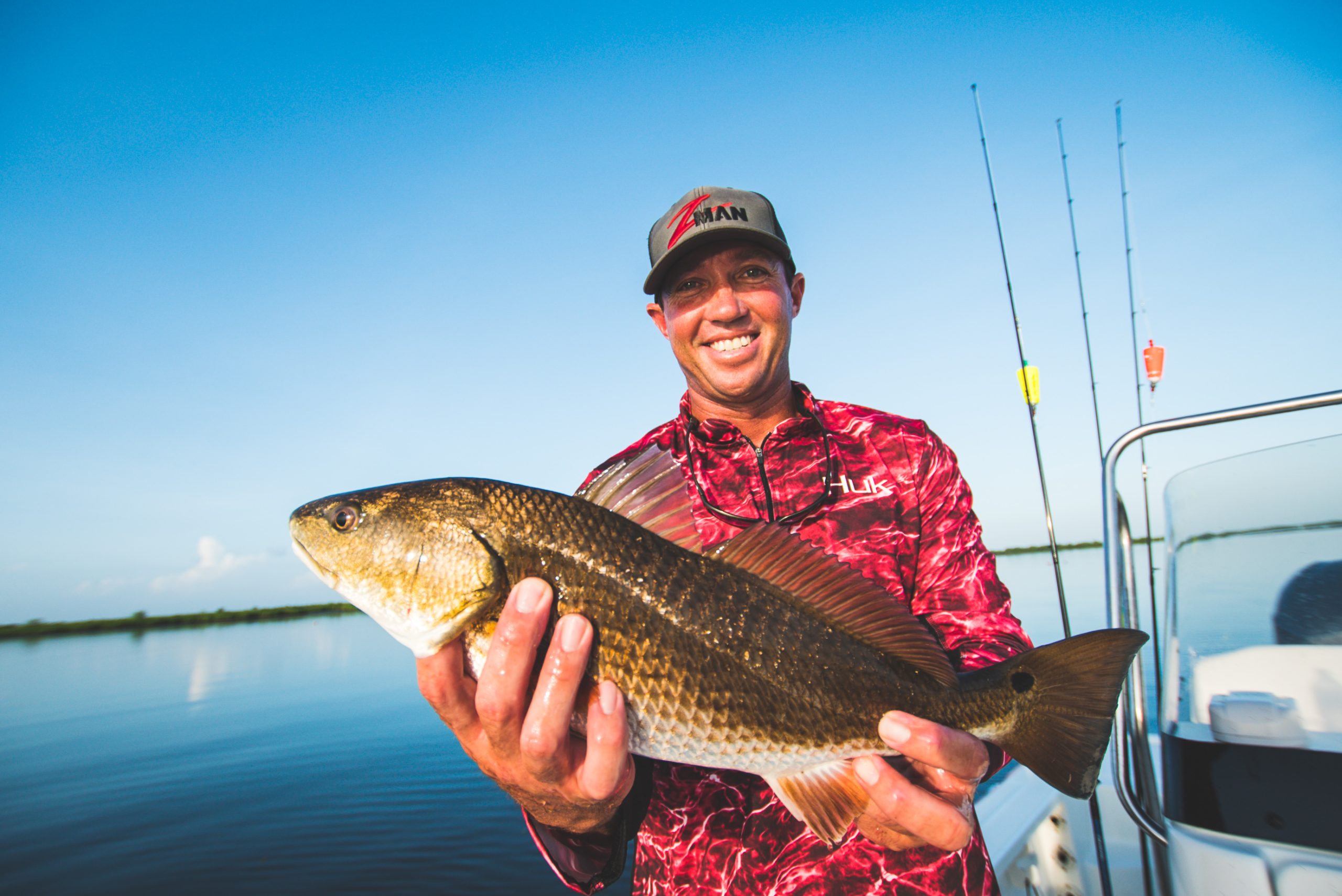 Delicious Louisiana Inshore Fishing Table Fare
Beyond the sporting fun of these fish, they are also very pleasant table fare. When you fish with us, we can recommend the best ways to cook redfish and will gladly package your fresh fish fillets to take home with you. If you are traveling to New Orleans red fishing is not far away. Our dock is located approximately 45 minutes from downtown New Orleans and the world famous French Quarter.
Redfish Feed Actively for Year Round Activity
There is really no "best" season to come red fishing at Louisiana Fishing Charters. Redfish feed actively year round and we are able to track them as they move through seasonal patterns. If you've never experience insane redfish action or if you've had it already and just can't get enough, come on a Louisiana charter fishing trip with us and we'll show you exactly what we're talking about.
Fun, Exciting Fishing Trips for Anglers of All Ages
Louisiana Fishing Charters offers the ultimate inshore fishing experience for both novice and experienced anglers. With our expert guides, top-of-the-line equipment, and vast knowledge of the area's waters, you'll have the time of your life reeling in some of the most sought-after fish in the world.
Not only will you enjoy a thrilling day on the water, but you'll also get to take in the breathtaking beauty of Louisiana's coastal landscapes. From the vibrant marshes to the majestic cypress trees, you'll feel like you're in a paradise.
So why wait? Book your next inshore fishing trip with Louisiana Fishing Charters and get ready to create memories that will last a lifetime. We guarantee you'll have an unforgettable experience that will leave you wanting to come back for more. Contact us today to schedule your trip!